Promote an Ongoing Learning Culture.
Develop People and Prepare for the Future.

With the Learning Management System (LMS) you can ensure that your people have the required knowledge and certifications to excel in their jobs.
SAP SuccessFactors Learning, a cloud-based solution, enables you to develop and improve employee skills, create a culture of ongoing learning, and improve business results.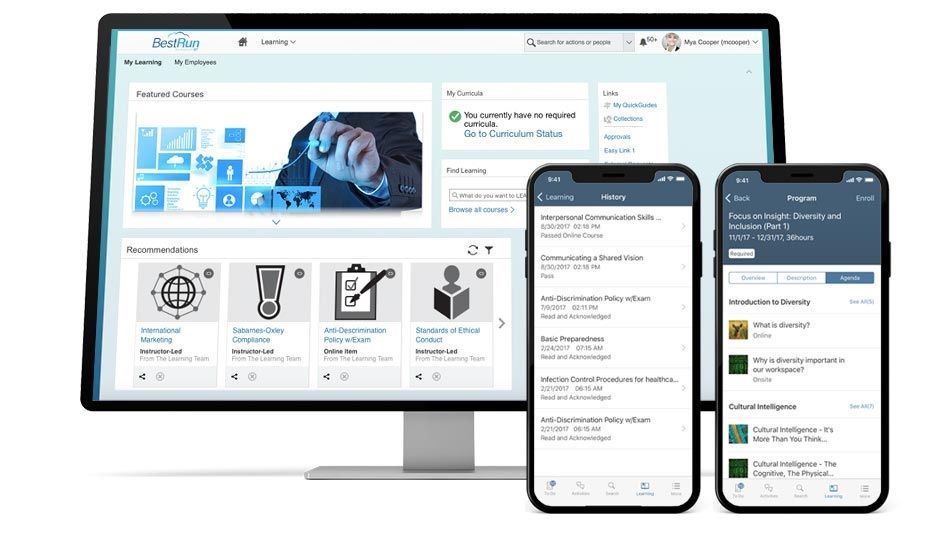 Blended learning capabilities for developing employee skills
Plan employee learning from onboarding throughout the entire career path
Automatic and dynamic training allocation based on employee profile 
Ensure development goals are aligned with learning activities that can assist in overcoming performance gaps
Set competency based development goals to reduce turnover and upskill the workforce
Complement the formal side of learning with informal capabilities such as videos, multimedia playlists, QuickGuides, documents, groups, personal workspace and tagging
Utilize the Open Content Network to provide broad access to expert-created content from partners such as edX, OpenSesame, lynda.com, Harvard Business Publishing (Harvard ManageMentor), Udacity, Coursera, and openHPI).
Capabilities to improve regulatory compliance and reduce legal risk
Manage complex certifications of employees as well as external learning audiences, such as partners, dealers, franchises, customers, and the extended business network, to provide them with the knowledge they need
Leverage certification and document management capabilities to lower safety incidents
• Interactive online quiz and observations for employee's certification
Provide managers with instant access to their employees' certification or curricula status 
Control your e-signature configuration policy and workflow wherever multiple people are required to sign off on completion of training.