Share Goals. Measure Performance. Provide Continuous Feedback. Reward Success.

Performance management is so much more than setting and measuring goals.
To succeed, you need a workforce that clearly understands the strategic business objectives and can quickly adjust course as business needs evolve.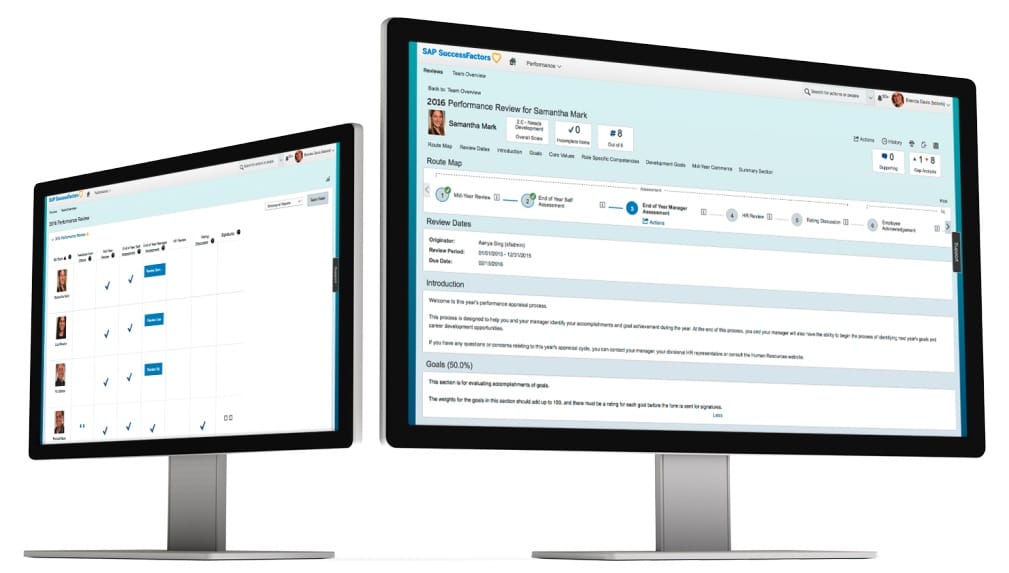 SAP SuccessFactors Performance & Goals, a cloud-based system, helps your organization ensure strategy and goal alignment, continuously improve workforce performance through ongoing coaching and continuous feedback, and accurately evaluate and recognize top talent.
Powerful Goal and Competencies Management
Develop goals with the aid of more than 500 goal recommendations from the Goal Library
Measure competencies at organization / position level 
Continuously update employee effort, success probability, and comments with features like Goal Management App
Give managers more control over goal execution, enable the setting of cascading goals, and view individual, team, or company-wide progress.
Continuous Performance Management
With SAP SuccessFactors Performance & Goals you can stimulate continuous dialogue and feedback between managers and employees, thus helping them to have more structured conversations as to how to align and improve performance.
Update managers on their activities, specific to goals on which they are working, their list of priorities are and the progress they are making
Request and share real-time feedback with peers on their achievements
Capture a live summary of achievements to discuss during one-on-ones and prepare more easily for the more formal performance assessment.
Track the team's progress against its goals, ensure they have their priorities straight, and provide actionable feedback easily
Access activities, achievements and feedback to hold more effective performance check-ups when meeting employees face-to-face
Use simple coaching techniques, placing emphasis on what employees have done well and what else they can do to improve their future performance.
Accurate Performance Assessments
Get better quality reviews, promote faster user adoption, and increase completion rates with a simple and engaging experience for everyone
Set workflows per organization's needs
Capture a more balanced and complete view of employee performance with "Ask for Feedback" and 360 Reviews
Identify top and bottom performers based on their individual competencies and potential
Use Calibration to ensure that decisions made about performance and compensation are objective and fact-based.
SAP SuccessFactors Performance & Goals can be a stand-alone system, or part of the cloud-based Synerion Success solution that integrates with Synerion Core HR, to provide the best cost-benefit ratio. Furthermore, it can work alongside SAP SuccessFactors Compensation to ensure a clear correlation between incentives and rewards, the individual's performance and the organization's compensation and benefits packages.