Recruit the Best. Reduce Cost per Hire. Shorten Time-to-Hire.
With Synerion Recruitment you can manage a high quality recruitment process effectively, providing a quick response to your organization's dynamic recruitment needs and realizing a quick return on investment.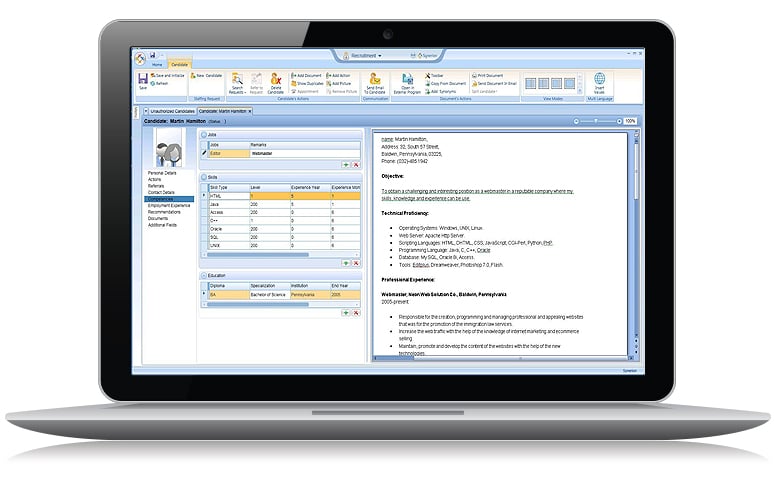 Synerion Recruitment for High Quality and Effective Recruitment Process
Shorter time to hire – Shorter time to hire – capturing applicant resumes from a variety of channels (e-mail, external files directory, etc.), automatic indexing, and initial sorting of resumes in multiple languages
Reduction in cost per hire – management and real-time monitoring of accumulated costs per stuffing request. Enables recruitment budget planning, cost comparison between jobs and more
Improved recruitment quality – bi-directional matching between job requirements and applicant skills, and graphic visualization of the degree of suitability, for identification of the best-qualified candidates and the creation of a qualitative and reliable pool of applicants
Managing the various recruitment sources to promptly identify the ones with the candidates most suitable to meet job requirements
Efficient management and monitoring of all stages in the recruitment process – flexible workflows adapted to job requirements and the organization's needs and operational mode, to manage, follow and monitor the recruitment process and identify deviations from specified timetables
Streamlining communication with multiple interfaces involved in the recruitment process: Human Resources, hiring managers, candidates and placement agencies
Control panel that provides information by "push" instead of a proactive search, as well as alerts that call for action.
Synerion Recruitment Supports your Workflow
Tools for managing and monitoring of tasks (To Do List) that the recruiter has to perform at all stages of the process: concerning candidates, hiring managers, and others, including a reminder mechanism
Threshold questions for quick screening of candidates who meet the threshold requirements
SMS to a candidate/group of candidates, based on templates or free text *
Alerts module that ensures organization compliance with Notice to Candidate Law requirements, by automatically generating timed alert and reminder email notifications *
An integrated web portal for the recruiting/interviewing manager that allows direct communication with the HR department as part of the recruitment workflow defined for the position*
A candidate's portal, which is an integral part of the Careers page in the company's website, that displays available openings and enables the candidate to apply for positions suitable to his abilities*
A wide range of analytics for measuring the efficiency of the recruiting resources, identifying cause of process halting, funnel reports and more
Full synchronization with MS Office, including Outlook, and the option to export to Excel
Multiple language support
Available in hosting.
*Optional