Reliable Smartphone-based attendance reports
Synerion Mobile Pro, Synerion's smartphone-based attendance reporting solution, is integrated with the Synerion Direct system. It enables remote clock in and, reports on tasks performed, submitting absence requests and more – all via the employee's smartphone.
Mainly designed for field workers and workers in distributed organizations that have no reporting infrastructure, Synerion Mobile Pro can also be used for office employees instead of the regular attendance clock.
The Synerion Mobile Pro application is synchronized with the Synerion Direct system  and, in addition to reporting, it enables employees to view their personal attendance sheets, shift scheduling and vacation balances.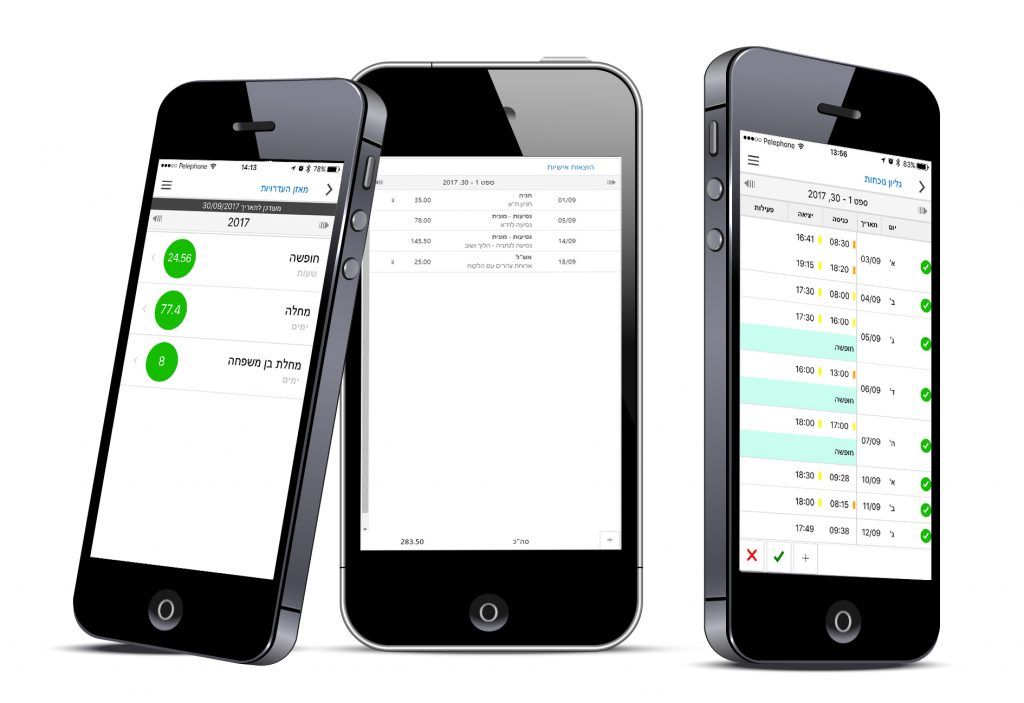 The Synerion Mobile Pro application is available for both iOS (iPhone) and Android operating systems.
No special infrastructure is required, and the system operates independently of the cellular provider. Moreover, there is no need to purchase dedicated hardware or software for each site.
Synerion Mobile Pro attendance application enables:
Location-based employee attendance reports – the start/end of work day while identifying the employee's location at the time of report submission, including the degree of accuracy based on a list of authorized sites, as well as the option to block reports from unauthorized locations
Reporting of tasks in real time, at the beginning or end of task, or updating in retrospect
Display of employee's vacation balance including employee's vacation entitlement data during the current year, annual utilization, remaining vacation days and more
Absence Requests – An employee can submit absence requests, including partial absence, to be  approved or rejected by their manager
View of employee's daily timesheet – attendance and absences data within the current or previous period, including attendance/absence editing capability and more
View of employee planned shift scheduling
Expense Reporting – capture expenses. Enables loading receipts and adding comments 
Company Phone Directory – contact details of your employees for swift communication. Includes display of "who is in".
Read more about Synerion solutions for reporting attendance by mobile or landline phone.
Synerion Mobile Pro Attendance Application – Reliable Location-based Reports
Accurate and reliable reporting of attendance/tasks performed by employees at remote sites and in the field, with verification of location at the time of submission based on a list of authorized sites
Complete view of vacation balances, attendance/absence sheet and shift scheduling, available to employees
Accurate payment to employees based on actual attendance
Savings of administrative resources required to collect and update data, and reduction of errors caused by manual data entry into the attendance system
Simple and use-friendly operation
Effective alternative to attendance clocks in the organization
Green, paperless organization.
Synerion Mobile Pro Attendance Application – Simple and User-Friendly Operation
No need for investment in dedicated hardware and software infrastructure at each site
Independent of mobile service provider
Monitoring of employee location at the time of report, based on a list of authorized sites, indicating the range of accuracy. Punches received from outside the specified range are defined as exceptions and flagged for verification
Integrated with Synerion's Time and Attendance, Labor Costing and Scheduling systems.