A Clear View of all Data that you Need
Synerion Direct, Synerion's Employee Self-Service (ESS) and Manager Self-Service (MSS) system, enables direct access to information, updates, and communication between employees and managers in matters of attendance, absences, tasks, and work schedules.
The innovative and friendly interface is easy to navigate and supports your work processes.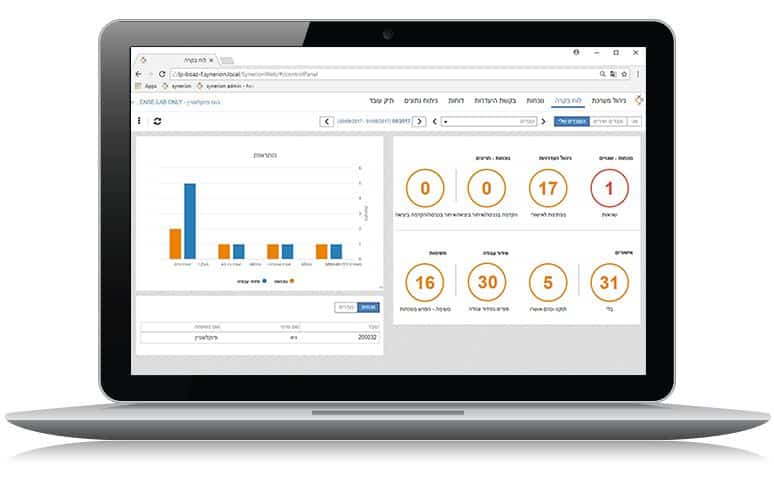 Employee and Manager Self-service – the information you need, when you need it
Fully adapted to the needs of the organization
Central control panel (dashboard) to highlight issues and trends that require your attention and allow for a timely response 
Workforce management  and monitoring by means of proactive alerts and notifications allow for early detection of problems and corrective actions
Innovative user interface, with easy and intuitive navigation between different applications, such as attendance, absence, labor costing and scheduling and more
User experience encourages the utilization of the system and enables easy deployment
Accurate information and simple automated workflows reduce administrative work and prevent errors due to manual data entry
Accessible information for direct and fast communication between employees and managers, without having to wait for information and/or approvals from other business units.
Self-service system – Key features for managers and employees
Direct access to comprehensive data relevant to employees and managers, and the ability to update the information based on an authorization, monitoring, and security mechanism
Proactive alerts based on priorities
Analytics on issues such as attendance and absence, with analysis by the type of work hour (standard, overtime, etc.), by employee, by division, and more
Management monitoring of overtime and the ability to reject or specify a partial amount of overtime to be transferred to payroll
Communication between employees and managers concerning absences: reporting, requests for absence and approval/rejection of requests
Planned vs. actual displays on a variety of topics such as work schedules
Daily reports about errors/exceptions to prevent bottlenecks in the payroll department at the end of the month
Export of reports and graphs in multiple formats.